Probate records are files that contain information about a deceased person's estate, as well as their distribution of assets and debt payments. This information is valuable to ancestry researchers, genealogists, historians, and real estate professionals who specialize in the probate niche. These court records are free to obtain, however, they're not always easy to find. Read 5 ways how to find probate records, as well as the advantages and disadvantages of each option, specific to probate real estate professionals seeking probate leads.
1. Find Probate Records Online
Online you'll find free records, however you may need to register or create an account online in order to access this public information. Most probate records online are maintained at the county or state level so first you'll need to determine the jurisdiction where probate proceedings take place. Then you'll need to search for online databases. Many states have their own databases, but some are maintained by third-party websites. You can often search for records by the name of the deceased individual, date of death, or case number. This is a great option if you're looking for a specific case, however, if you're looking for a probate list of cases in a particular area this can become an incredibly time consuming task that includes searching through death records and cross referencing to see if any are going through probate.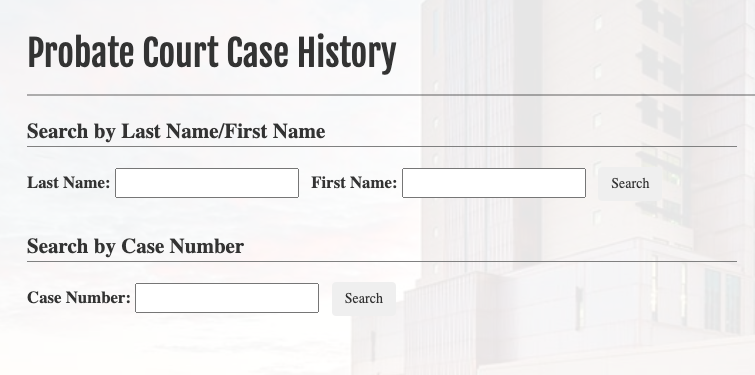 Advantages of Searching for Probate Records Online
Convenience of accessing probate records from anywhere
Cost-effective way to gather public information
Time-saving if you have a particular case to search in comparison to visiting the courthouse
Disadvantages of Searching for Probate Records Online
Some online probate record databases may have incomplete, inaccurate, or outdated information
Some jurisdictions have online access restrictions
2. Visit a Courthouse for Probate Records
Your local courthouse is another way to gather probate legal records. This is a great option if you have questions or if you're seeking a list of records instead of a singular case. It's recommended that you search online for the courthouse hours of operation. You may also want to call the courthouse to find out the specific procedures for obtaining probate records. Some courthouses charge a fee for access to these records so be sure to ask and prepare accordingly.
Watch this clip of how a probate real estate agent who took action from the Probate Mastery Certification Course and used his visit to the courthouse to build relationships with courthouse staff. He now runs his entire business from courthouse referrals.
Advantages of Going to the Courthouse for Probate Records
Access to original, authentically signed documents
Ability to review entire probate case files that may contain information not available online
Ability to ask questions to the clerk or court official
Opportunity to cultivate relationships with courthouse staff and receive real estate business referrals
Disadvantages of Going to the Courthouse for Probate Records
Inconvenient and time-consuming to visit the courthouse, especially if the courthouse does not have sophisticated searching capabilities
Some courthouses have limited hours of operation
Some courthouses charge fees to obtain probate record copies or it may cost for parking
3. Hire a Third Party Independent Researcher for Probate Records
Another option of finding probate records is to hire a third party independent researcher. You'll want to start by searching online or researching companies that specialize in gathering probate data. The National Association of Professional Genealogists is a directory of independent researchers and genealogists around the world. Check out this directory to see if someone covers probate records in your area. Once you have found a potential researcher, make sure to review their experience, references, and credentials to make sure this person is equipped to handle probate records.
Advantages of Hiring a Third Party Independent Researcher
An experienced researcher will have the expertise to expedite the search process
Saves you time if you're inexperienced or unable to visit the courthouse
Convenient because the researcher will handle the entire process of gathering probate records for you
Disadvantages of Hiring a Third Party Independent Researcher
Expensive
Quality of work may be questionable if you don't choose a reputable and reliable researcher
4. Purchase Probate Lists from a Leads Company
Using a probate lead company is a great option for any professional seeking a streamlined process of obtaining multiple probate records on a consistent basis. Probate leads with contact information are consolidated into a single spreadsheet and can usually be uploaded into your CRM. You have the option to purchase leads one time or in a subscription. Check out the top 5 probate lead companies to determine if purchasing probate leads is the best option for you.
Advantages of Purchasing Probate Leads from a Lead Company
Most time-saving option
Access to a large database of probate leads
Allows for targeted marketing based on location
Disadvantages of Purchasing Probate Leads from a Lead Company
Probate lead costs can be expensive – compare pricing of the top 5 probate lead companies here
Quality of leads can vary widely depending on the company you purchase them from
5. Get Probate Leads from Attorneys
Although this may not be the best option for a real estate professional seeking a surplus of leads on a consistent basis, building attorney relationships is the most sustainable way to build a reputable brand and receive reliable, ready clients. Best of all – it costs nothing! All you need is the confidence to approach law offices by asking the right questions and building rapport based on providing value first. If you're already an experienced probate real estate agent or investor, take this Earn Attorney Referrals Now course to learn precisely how to build your attorney referral network – and hear from real, actively practicing attorneys throughout the course. If you're new to the probate niche, take the Probate Mastery Certification Course first and then add your attorney relationships specialty after getting the basics of probate real estate down.
Advantages of Building an Attorney Referral Network
Highest quality of leads because referrals are ready and reliable
Zero cost
Disadvantages of Building an Attorney Referral Network
Can take time to build rapport and cultivate attorney relationships – watch this video of how an Earn Attorney Referrals Now student got 6 leads in 48 hours by visiting an attorney
Depending on the attorney's workload, you may need to have multiple attorney relationships or another strategy to prospect probate leads
Conclusion
Although probate records are often online and free, seeking leads through online records may not be the best use of a busy probate real estate professional's time. Going to the courthouse or law offices may be intimidating for some, but these options offer the most accurate data and reliable leads. Third party independent researchers and lead companies are the most expensive options, however they also offer leads in bulk which is great for marketing-adept real estate professionals.
About the Author